RECENSIONE ANIME: Acchi Kocchi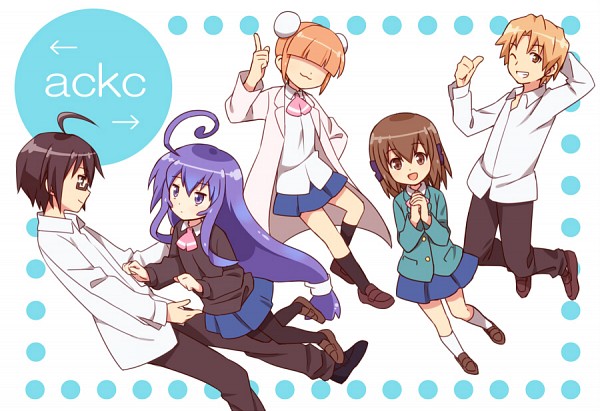 Acchi Kocchi è un anime Slice Of life prodotto nel 2012 dalla AIC.
La trama
Essendo uno slice of life, quest'anime non ha trama, né è pretenzioso di averne una: inizia in modo veramente semplice, con la protagonista, una ragazzina (Tsumiki) dai capelli blu, che ricorda vagamente altri personaggi ben più noti di altri anime, in attesa del suo Lui alla fermata del treno. Con un cast consolidato di 5 personaggi principali e 3 secondari, Acchi Kocchi si mostra come un anime senza pretese, con poche gag veramente ben riuscite ed un andamento blando. Nonostante tutto, però, il fulcro dell'anime non sta nelle gag, come un occhio poco attento potrebbe notare, bensì nella componente "moe" dei personaggi, sia maschili che femminili. Ciò che "forza" lo spettatore a continuare a guardare Acchi Kocchi è lo scoprire l'andamento dei rapporti tra un personaggio e l'altro. La coppia più forzata è quella dei due protagonisti principali, Tsumiki e Io, abbastanza sterotipata da altri anime di maggior fattura. I riferimenti ad altri anime sono letteralmente dietro l'angolo, ad ogni minuto di ogni episodio, ma ciò non rinforza le gag, che come già detto, non sono abbastanza divertenti, almeno il 60% di queste.
Lato tecnico
Uno stile grafico incentrato sul "chibi" e sul "moe" continua a far capolino ad ogni episodio, lasciando pochi momenti in cui i personaggi sono raffigurati normalmente senza strani filtri grafici. L'animazione è anche piuttosto riuscita, nello standard di ogni anime di annata 2012. Parlando poi del sonoro, soundtrack che riportano alla memoria il buon vecchio Animal Crossing fanno capolino, accompagnando i teneri personaggi nelle loro scorribande. Anche Opening ed Ending sono veramente simpatiche e tenere, come d'altronde lo sono i personaggi.
Commento finale
Acchi Kocchi è un tipico slice of life riuscito a metà, che finisce nello stesso modo con cui inizia. E' in altre parole un anime da vedere a cuor leggero, senza aspettarsi niente di troppo. Lo consiglio? Si, a chi non ha nulla da vedere.
Voto Finale: 7
Qualità Fansub: Ho seguito due Fansub, gli AMF (con evidenti errori grammaticali e ortografici) e gli All Game Forum (di qualità nettamente superiore). Mediocre per gli AMF, Media per gli All Game Forum.