Akki Games! Capitolo 4 - Doppia recensione! Aika & Shaiya
Salve a tutti amici!
Bentornati nel blog di Akki! Dunque, visto che ora non ho la possibilità di rilasciare sempre un articolo al giorno, ho deciso che saranno più frequenti gli articoli doppi, articoli cioè che racchiudono due recensioni o articoli diversi. Dunque, in questo Articolo doppio andremo ad analizzare due giochi a mio parere diversissimi e opposti: Shaiya e Aika. Iniziamo da Aika, che è stato l'ultimo provato!
-------------------------------------------------------------------------------
Un gioco che dice tutto già dal nome! Aika global è qualcosa di spettacolare da giocare! Al diavolo giochi troppo elaborati come World Of Warcraft e compagni, Aika Global è ottimo da giocare se non volete spendere una lira sui giochi online e volete comunque avere un buon servizio e un gioco bello e veloce da giocare!
Trama (Si, perchè ne ha una!)
Come già visto in World Of Warcraft, Aika ha una trama, che però non ho ben capito perchè le scritte si susseguivano troppo velocemente. Fatto sta che il protagonista che andremo a scegliere sarà quasi del tutto personalizzabile, tranne che per il fatto che armatura iniziale e arma iniziale ci sono già fornite. Ci basteranno una manciata di click per iniziare subito con le prime missioni, e quindi per iniziare a muoverci nel vastissimo mondo di Aika Global.
Gameplay
Il gameplay in Aika è un punto chiave. I comandi rimangono negli standard, insomma, rimangono come già visti in altri giochi magari più famosi. Non vorrei però soffermarmi solo sui comandi, perchè ho intenzione di parlare anche del sistema Skill. Dunque, le Skill non si imparano automaticamente, bensì avremo a disposizione degli skill point, da distribuire in modo più equo possibile tra le skill dello Skill Master. Una volta distribuite, avremo già automaticamente imparato la Skill che abbiamo aumentato di livello.
E poi c'è qualcosa di ancora meglio. Non so se qualcuno di voi ha mai giocato a NosTale, ma in quel gioco si potevano catturare degli animali per farli diventare compagni di avventura, famigli insomma. Ecco, qui in Aika la situazione cambia leggermente. Verso il livello 7-8 verrà sbloccata la quest per sbloccare una fatina, la nostra Pran, che expando fino al 5 potrà acquisire la forma umana. C'è da dirlo, le pran sono proprio carine! Sono ottimi personaggi di supporto, e possono avere 3 differenti attributi: Acqua, fuoco e Aria! Io ho scelto personalmente Acqua, favorendo quel tipo in praticamente tutti i giochi. Per quanto riguarda il nostro Avatar avremo a disposizione diverse classi, anche se l'unica cosa a sfavore è che se si vuole essere ad esempio sacerdoti bisogna scegliere per forza un avatar femminile.
Crafting Skill
Allora... il crafting non l'ho ancora provato perchè al momento, anche se il mio pg è al 15, risulta molto difficile guadagnare 4 soldi, perchè tra il comprare le armature, i vestiti per la pran, e i cibi vari si spende un capitale, ma comunque mi pare che mettendo insieme diversi elementi si possono formare armature e armi nuove, non voglio dire cavolate.
Grafica e Sonoro
Una grafica così curata non la vedevo da tempo! tutti i personaggi sono ben delineati, e hanno addirittura una voce propria! Anche per le pran si segue lo stesso filone, e cio' rende il gioco bellissimo e vario al contempo! Per quanto riguarda il sonoro c'è da dirlo, anche se le musiche ogni tanto si ripetono un po' non stancano mai.
Commento finale
Aika Global è un gioco da giocare a cuor leggero, con la consapevolezza del fatto che in questo gioco ci si diverte Veramente.
Voto: 9
--------------------------------------------------------------------------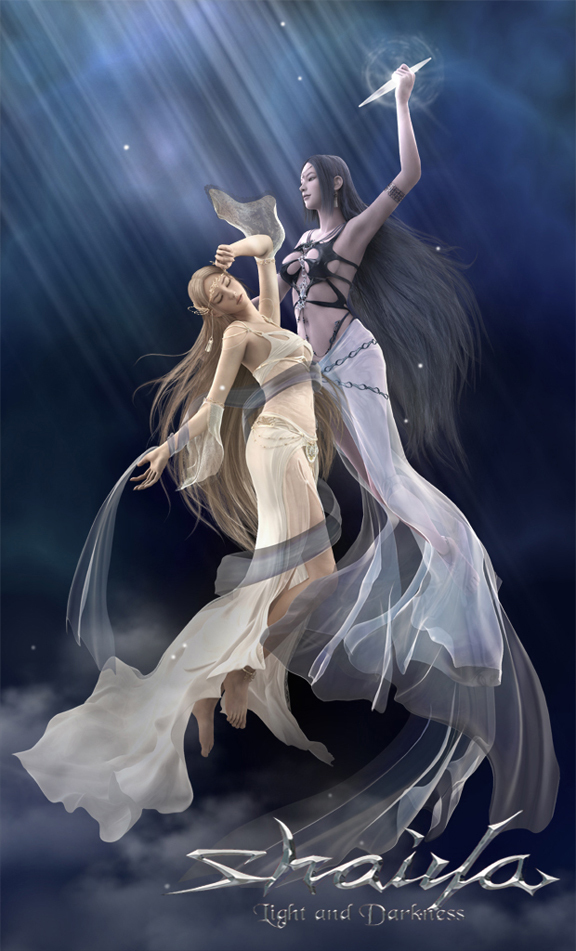 Shaiya...? Shaiya.... Shaiya... Ho dimenticato cos'è.
Trama (?)
Shaiya non ha una trama. E' farming a montone.
Gameplay
Fai un click sul tizio delle quest, accetti la quest, vai nel posto prestabilito (che molte volte è sbagliato), ammazzi uno dei millemila nemici dallo stesso nome clickandoci una volta sola sopra e il gioco è fatto. Le skill sono tantissime e inutili, perchè SP e MP finiscono fin dal primo auto-buff. Le classi sono 6, e avremo la fazione dei buoni e dei cattivi: dai buoni avremo gli umani e gli elfi, dai cattivi i nordein e vail. Le classi sono prestabilite per ogni razza.
Crafting Skill
Non c'è.
Grafica e sonoro
Musiche insopportabili, personaggi prestabiliti e movimenti troppo meccanici.
Commento finale
Giocate a Final Longju che vi divertite.
Voto Finale: 4